1. Slides
Discussion on submission trend/growth, acceptance/rejection rates, publications and citation analysis.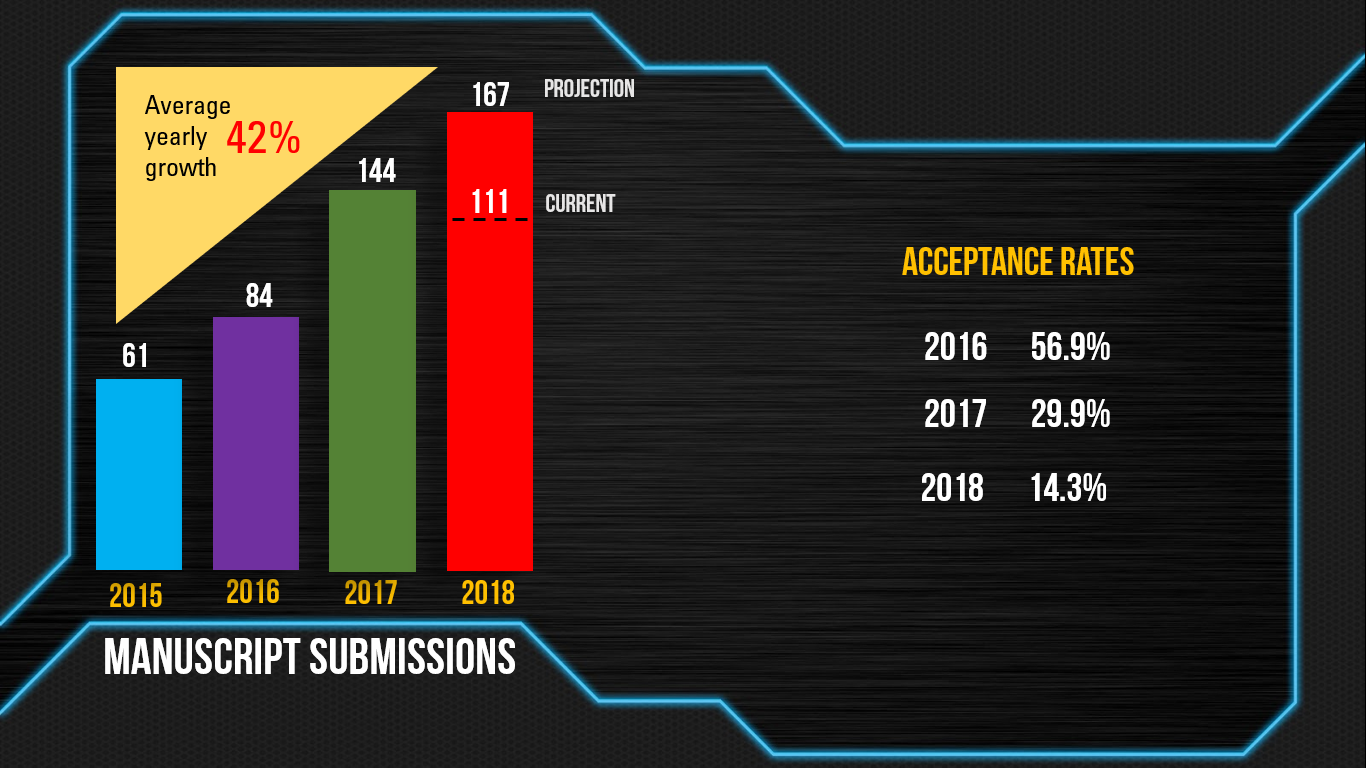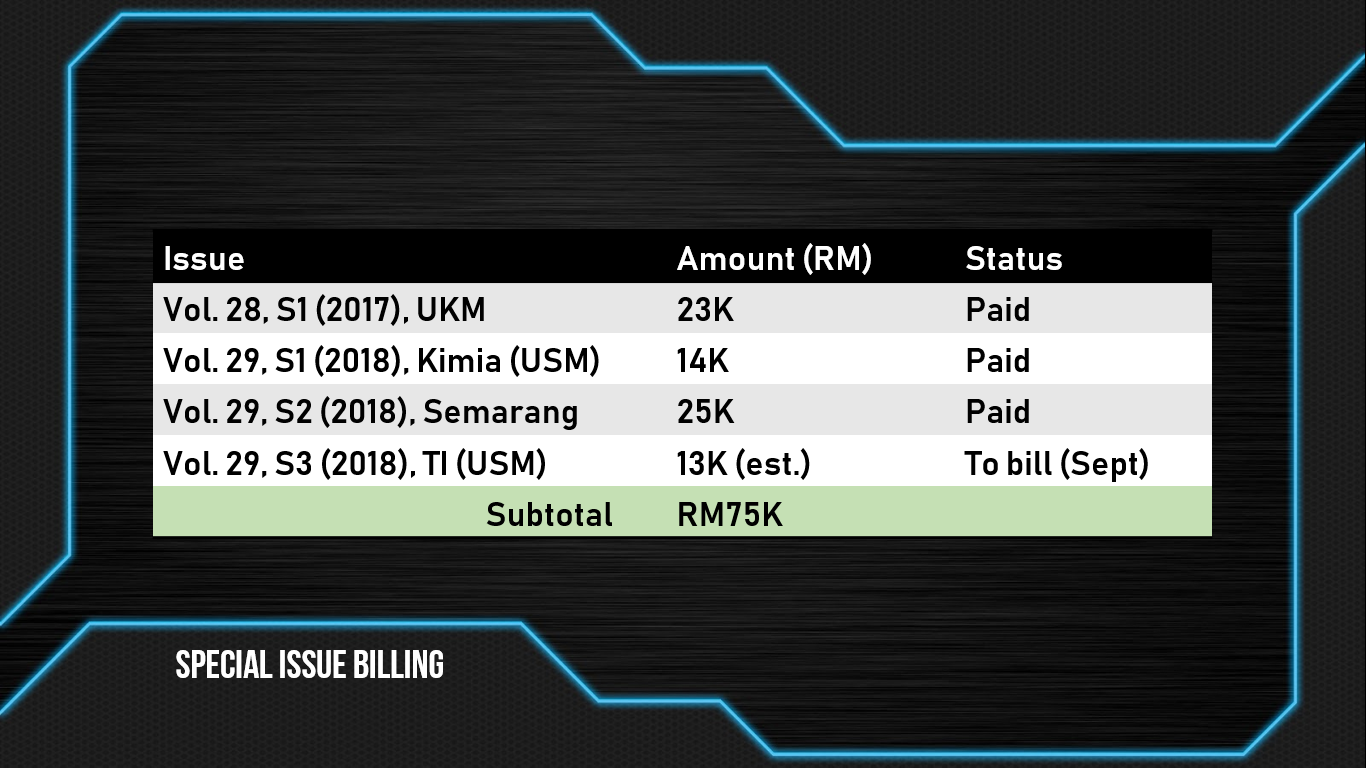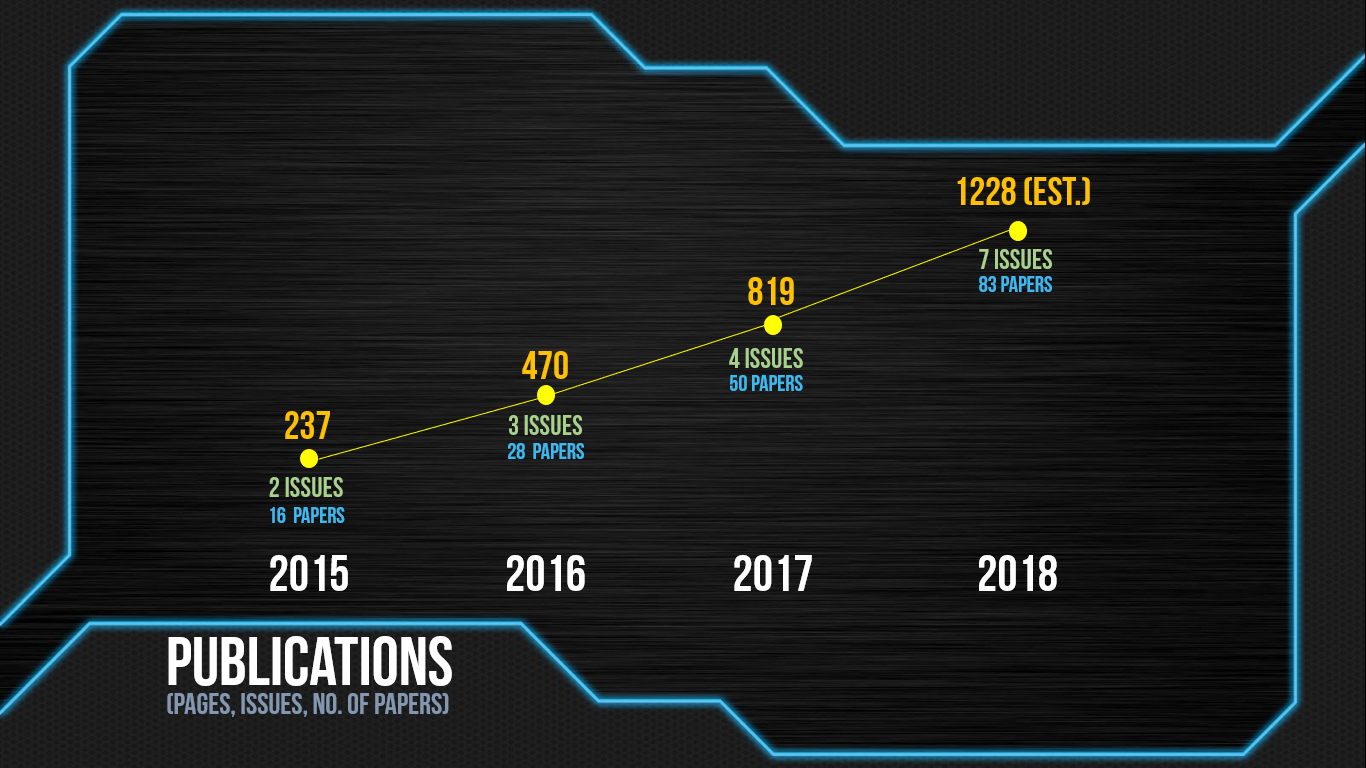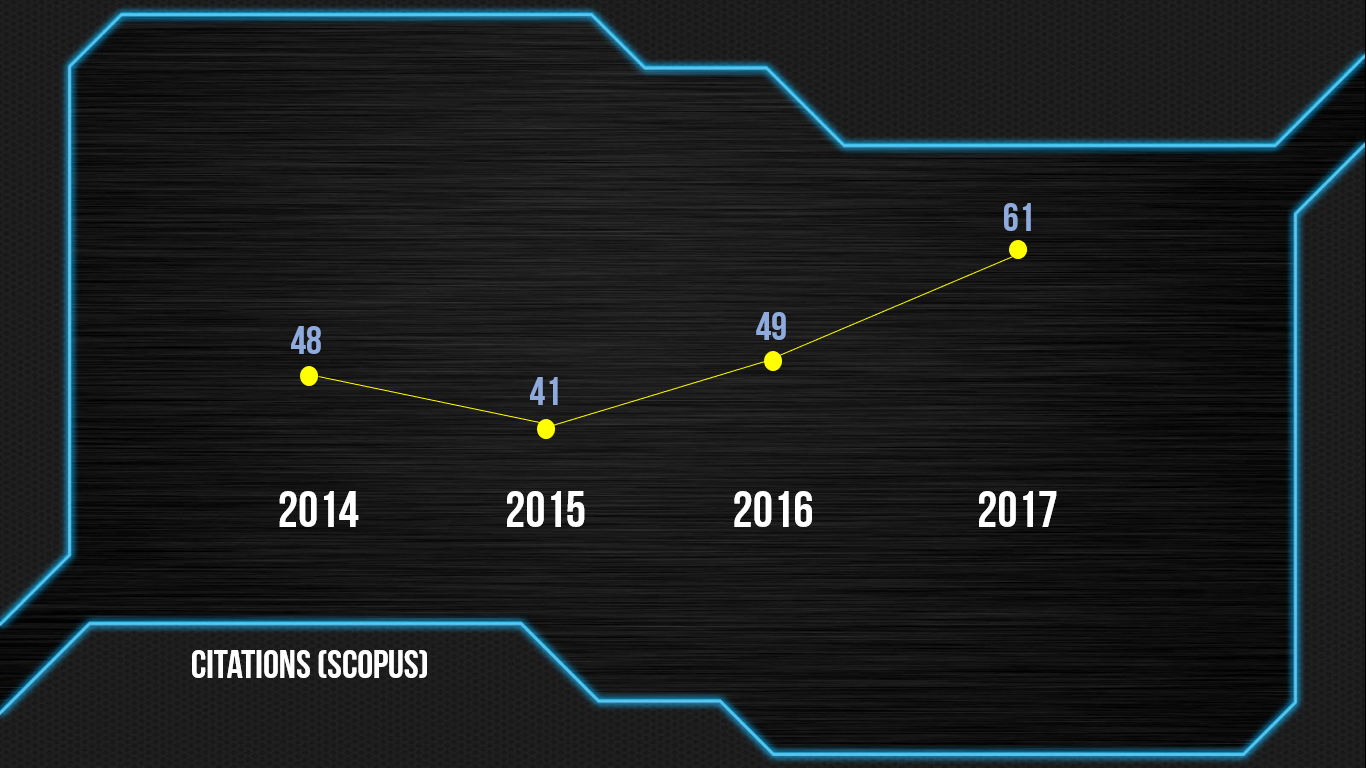 2. New Editorial Board Members
Previously two new international editorial board members were appointed: Prof. Mark Bagley (Uni. of Sussex, UK) and Prof. Nicolas Brosse (Uni. of Lorraine, France). Both from chemistry field.
New search for editorial board members, esp. from physics and engineering.
Prof. Latif and Prof. Fauzi to collaborate in identifying and inviting potential new members. Potentially to seek from Japan, Middle East and others. Zul to provide email invitation draft.
3. Special Issue Billings
To date, JPS has generated approx. RM75K in billing (RM62K paid).
Penerbit USM (En. Akhiar & Pn. Fazlina) will work out the percentage/portion of money which Penerbit USM can utilise based on the special issue billing, and the mechanism of withdrawal/usage. To discuss with Bendahari.
Money to use for journal promotion, training and/or honorarium (board).
The journal will also look into utilising money from CREAM Awards won in 2016 (RM3K) and 2017 (RM9K), total RM12K.
4. Publications
Penerbit USM to extend/cushion no. of articles per issue, from a fixed 10 to flexibel 15 (maximum) as a strategy to reduce publication lag time.
Zul to work on publication planning involving 2 or 3 additional articles per issue in 2019, and to feedback the impact on resources.
For the time being, frequency of publication is maintained at 3 issues per year.
New terms for special issue: max 20 articles (for both in and outside of USM); max percentage of authorship from same institution of 50%; conference must be of international level/standing.
New term for regular issue publications: max 10 pages (final), about 4-5K words.
JPS to adhere to the rule of max 2 special issues per year as decreed by the Jawatankuasa Penerbitan Universiti (JPU). If more than 2 special issues are required, a formal request will be sent to JPU.
5. Special Issue (Rising Stars, etc.)
Assistance to be provided to Prof. Zubir who is unfit, to follow up on review process, and inviting new paper submissions.
The issue is originally planned for December 2018. Postponement to 2019.
Presently, the issue comprises 5 articles from Prof. Dr. Abdul Rahman Mohamed, Prof. Dr. Bassim Hameed, Prof. Dr. Hanafi Ismail, Prof. Dr. Abdul Latif Ahmad and Prof. Dr. Roslee Othman.
Prof. Fauzi and Prof. Latif to help follow up with a few researchers (Prof. Dr. Abd. Karim Alias, Prof. Dr. Hazizan Akil), as well as invite new researcher (Prof. Dr. Ir. Mariatti Jaafar) to add more papers to the existing 5.
6. Web of Science (WoS)
Discussion on getting JPS indexed in WoS (formerly ISI), and strategies to improve the journal to meet WoS requirements.
A workshop to prepare submission to WoS in October 2018. Zul to coordinate.
7. Attendees
Prof. Dr. Abdul Latif Ahmad
En. Akhiar Salleh
Prof. Ahmad Fauzi Mohd. Noor
Prof. Dato' Dr. Hasnah Osman
Prof. Norli Ismail
Pn. Fazlina Mohamed Rouse
Cik Marina Azmi
En. Zulkifli Musa