New year. New day. The Journal of Physical Science and the publisher, Penerbit Universiti Sains Malaysia (USM Press) would like to wish our readers many happy new year. May 2017 bring more prosperity to everyone.
Here are some key activities and happenings throughout the year 2016 for Journal of Physical Science:
New Team Line-up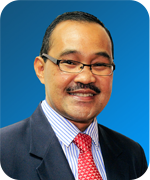 The year 2016 began with the appointment of new Editor-in-Chief, Prof. Dr. Abdul Latif Ahmad from School of Chemical Engineering, Universiti Sains Malaysia. A prolific researcher and academic, Prof. Dr. Abdul Latif is recipient of numerous awards and accolades, both locally and internationally. Among the many awards he has received thus far include being named as one of the recipients of The World's Most Influential Scientific Minds in 2014, Merdeka Awards (2014), Korean's World Inventor Award (2013 and 2014), and The Malaysia's Rising Star 2015. Along with Prof. Dr. Abdul Latif, the journal has also been strengthened with the additions of new editorial board members.
Publications
As part of the growth plan, beginning 2016, Journal of Physical Science also began publishing three issues per year, as opposed to two issues in the previous years. Altogether, the journal published a total of 28 articles in the year 2016.
CREAM Awards
In 2016, Journal of Physical Science was announced as the recipient of the Ministry of Higher Education's Current Research in Malaysia (CREAM) Awards. Introduced in 2015, CREAM Awards are given to identified scholarly journals published in the country showcasing promising growth, as part of the incentive to encourage continued excellence in research and publications.
We thank our readers and reviewers for the continued support to the journal. Our hope is that 2017 will be the year Journal of Physical Science continues to flourish and achieve more big things, and our readers remain actively engaged with us.